If you're looking for the answers to these questions, then you've come to the right page. We'll talk about marketing funnels and how they work. We'll also explore their benefits and the best practices you need to adopt when making one.
What is a Marketing Funnel and How Does it Work?
A funnel is a system that helps you attract potential customers, turn them into qualified leads, and transform them into paying customers.
Marketing funnels are shaped that way because they mirror the buying process.
You start with as many qualified prospects as possible. As you go further down the marketing funnel, you narrow down these prospects into high-quality paying customers.
Sales and Marketing Funnel: What's the Difference?
Marketing and sales teams are distinct from each other, which means they have their separate funnels. Marketing teams have funnels that manage the brand and drive awareness— both of which push for marketing to qualified leads.
Alternately, the sales funnel is all about the sales process. It's made to sell more products or services.
While most use their funnels interchangeably, they're two parts that work together. In the end, their goal is to optimize the customer's journey.
4 Marketing Funnel Stages
If you want your marketing efforts to work, then you need to be familiar with all the stages involved:
Awareness Stage
It all starts with brand awareness. It's when customers become familiar with your company's name, culture, style, and the like.
At this stage, your prospects still don't know your brand and the things you sell. It's up to you to inform them.
During this so-called interest stage, you need to make sure to go where they are. That's why you need to conduct consumer research before launching marketing campaigns and ads.
After all, your campaigns are useless if nobody can see them.
Remember: 84% of clients do product research outside your website, so it's essential to cover these bases. You shouldn't limit your promotions to your company website or social media accounts.
In other words, this stage aims to ATTRACT customers to your brand and drive them to your landing page. 
That way, they would choose your product or service during the decision-making process.
Consideration Stage
In this funnel stage, the marketer's job is to make the prospective customer consider your brand. To do this, you need to INFORM your prospective customers.
In other words, you need to address their usual pain points, focus on their interests, and answer their burning questions.
Therefore, your marketing strategy for this stage should be to host webinars, publish case studies, and the like. It's also good to send autoresponder emails so you can follow up on your clients with relative ease.
Conversion Stage/Purchase Stage
This stage is all about encouraging customers to buy your product or service (DECIDE) because it solves their problem.
It means sales reps should pursue marketing tactics that will make the brand stand out from the rest.
In this stage, you need to write comprehensive website content and provide an excellent customer experience along the way.
Compared to the other stages above, conversion is relatively easy to measure. It's as simple as monitoring marketing activities that lead to quick purchasing decisions.
Loyalty Stage
Even if your current customers have already reached the final stage of the funnel, it doesn't mean you or the sales teams should stop. 
In fact, you need to follow up and nurture your connection with them. You have to dig deeper if you want to transform them into repeat customers.
Loyalty is not only good for ENGAGING; it's cost-effective, too. The cost of acquiring new customers is five times more than trying to retain your current ones.
Possible solutions that work on post-purchase behavior include:
Loyalty programs
Social media activations
Email nurture campaigns
Types of Marketing Funnels
Depending on what you're trying to achieve, you can use these various funnels to attract prospective customers:
Lead Magnet Marketing Funnel
Without leads, your business won't grow.
That's why new companies need this marketing funnel, for it can significantly help with lead generation.
This marketing funnel works by offering lead magnets or freebies out in the open. Potential solutions include checklists, cheat sheets, and templates, among others.
List Building Funnel
How will you promote products and services if you don't have an email list at hand?
For this crucial reason, you need to start a list-building funnel. It can give you access to all the pertinent info (name, email, contact number, etc.) you need for your marketing channels.
This is often paired up with the lead magnet marketing funnel.
Email Funnel
Once you have built a list, it's time to use this data.
For one, you can use this to convince your Facebook followers to sign up for your webinar.
Sales-wise, you can use this funnel to convert your potential customer into a full-fledged buyer.
Webinar Funnel
As mentioned earlier, webinars can help those in the consideration phase of the buying process.
It's all about answering their questions, after all. An easy and engaging way to do so is to run webinars.
By promoting this lead magnet, you can drive more of your target audience into the marketing funnel.
Social Media Marketing Funnel
People spend an average of 2 hours and 24 minutes on social media channels.
That's why it's crucial to look beyond the traditional funnel. You need to have one in your company's Facebook, Twitter, or Instagram account.
To boost brand awareness, you can run ads and giveaways.
If you want your potential customer to consider your business, you need to enhance the overall customer experience. You may do this by offering timely chats, public groups, and informational videos.
As for the purchasing process, embedding 'Shop Now' buttons or running more ads should work.
More importantly, you need to build loyalty. Giveaways, rewards, and affiliate programs should help you close deals in the future.
Video Sales Funnel
This marketing funnel is all about running videos that sell your product or service. It's like having an automatic sales rep who works 24/7.
Here are reasons why you should build this type of marketing funnel:
People often turn to videos for answers, which means they help shape the customer's perspective.
Videos often top Google's search queries.
More than 2 billion people use YouTube (apart from the billions that watch videos on Facebook).
When it comes to making a video sales funnel, you need to:
Run branded intros/outros—again, it's all about brand awareness and recognition.
Embed links to landing pages and related content.
Add a solid call to action (CTA).
Optimize your videos with the help of keyword research.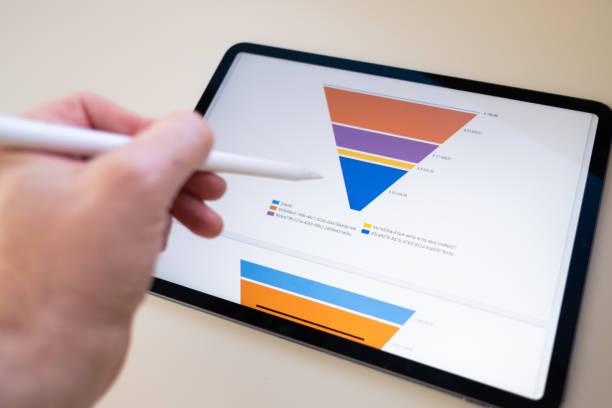 Why You Need a Marketing Funnel
While a marketing funnel guides the buyer's journey, it can do more than that. 
Here are two key reasons why you should include funnels in your marketing tactics:
It Provides Valuable Data
Wondering why you're losing so many potential customers? Maybe you have what experts call a leaky marketing funnel.
If your funnel is not secure, chances are your potential customers will leak out.
The good thing is that your marketing funnel report data can help you spot leaks and patch them up.
You should be monitoring the following:
Awareness Stage: Users, click-through rates, views, impressions, sessions
Consideration Stage: Email click-through/subscription rates, downloads, registrations, video playtimes
Conversion Stage: Transactions, conversion rates
It Can Help Improve Marketing Activities
With the help of the marketing funnel data above, you can improve or alter your marketing efforts.
Picture this: not a lot of people are signing up for your free trials. Maybe you have a weak CTA, which means you either have to improve or change your current one.
Without the metrics above, you'll end up running an ineffective marketing funnel. Talk about a waste of money!
What Businesses Will Benefit from Marketing Funnels?
Simply put, big and small businesses will benefit a lot from marketing funnels. 
Just take a look at these real-life examples:
Local Businesses
Maybe you want to grow your client base and attract more people from outside your town. You want them to be aware of your brand, which is why you decided to run paid traffic ads.
Once you've caught their eye, you'll want them to consider your business. You can do so, say, by offering newsletter access or any other lead magnet.
After gathering their emails, it's time to answer their questions and/or address their pain points. Doing so will help them convert and buy your product/service.
That said, you'd want them to return and make a purchase again. As mentioned, you can foster loyalty through rewards and follow-ups.
Online Businesses
Right now, about 12-24 million stores sell their products and services online. It's definitely difficult to compete with that, so you need to boost your marketing and sales by creating an effective marketing funnel.
As always, you want your clients to know more about your brand. You can do so by running ads that bring them to a lead magnet, such as a free eBook.
Once they've signed up for your offer, it's time to nurture them. 
For example, you can try sending links to your informative blog post. These, among many other marketing tactics, will help turn your subscriber into a buying customer.
As always, you need to do some follow-up to promote loyalty and repeat sales.
Service Providers
Say you're a coach or a mentor who wants to gain more customers. You can grow a following with the help of a robust marketing funnel.
Again, it's all about awareness. For one, you could attract leads by offering a free consultation.
Once they sign up for this, you can promote your service by upselling your services. There's a lot more you can offer, after all.
After the sale, you should work on promoting customer loyalty.
3 Tips on Creating a Marketing Funnel
As long as you're aware of the customer journey, creating your marketing funnel shouldn't be that hard. It's only a matter of heeding the following best practices, for they can make your campaigns more effective.
Consider Your Objectives
What's your goal in the first place? 
Is your funnel for gaining leads? Or is it mainly for list building? 
If you're not clear on your objectives, your strategies won't be as effective.
Select the Right Lead Magnet
There are so many lead magnets available, so you need to be careful when choosing one.
For example, you're marketing to busy moms. Unsurprisingly, they don't have a lot of time to read a lengthy eBook. Maybe you should consider providing an easy read, such as a one-page cheat sheet.
Optimize All Forms of Communication
Even if you have the best marketing tactics, it won't work if your emails or landing page aren't optimized.
Remember: 4.28 billion people use mobile devices to surf the net. That's more than 90% of the net-surfing population.
You may not be getting the click-throughs you need because your page looks wonky on their devices.
Again, it all boils down to split-testing your landing pages and other parts of the funnel before launching them. You will want to check for optimization problems that may cause a leak in your funnel. 
It'll also help you determine which formats work better for your audience.
In a Nutshell
A marketing funnel is a system that helps attract leads and turn them into buyers. It does so by providing valuable data that help enhance marketing activities. It can benefit all types of businesses, whether local or digital. 
While the term 'marketing funnel' is often interchanged with the term 'sales funnel,' they are two different (yet related) things. 
Marketing funnels help with brand management and awareness. Sales funnels, as the name suggests, focus on generating revenue.
Every marketing funnel is comprised of four stages: awareness, consideration, conversion, and loyalty.  
When making one, you need to consider your objectives and choose the right lead magnet. Likewise, it's best to optimize and test all forms of communication before publishing them.
Want to create your own funnel? Check out KLEQ.com, which has all the tools you need to build and scale your online business.