Do you ever wonder how you can transform a website visitor into a loyal customer? Or do you want to know what steps a customer takes before they purchase? 
If you said yes, knowing all about the sales funnel will surely enlighten you about how you can leverage them for the customer journey process.
What is a Sales Funnel?
A sales funnel illustrates the buying journey of a customer. It is highlighted with checkpoints or milestones that encourage interaction between your brand and the customer.
Sales funnels are utilized to track leads and potential customer behavior throughout the customer journey. It operates on the analogy that many people may look interested in the product, but only a few push through with the sale.
Does Your Business Need a Sales Funnel?
It doesn't matter what kind of business you have. A sales funnel is crucial in generating more sales.
A sales funnel works by letting you understand what path your customer takes before making a purchase. You can make objective assessments to optimize the process when you understand each step.
Optimizing sales funnel processes allows you to influence website visitors or leads to convert into customers. You can also look into paying customers' buying patterns or behavior. This will enable you to create the right approach to encourage them to move forward with the purchase.
If not, you can pinpoint problem areas and create strategies to resolve such concerns. You can identify which areas or stages customers abandon their buying process. You can also pinpoint various sales funnel stages where prospects drop.
What are the Stages of a Sales Funnel?
From the moment the target audience hears, discovers, or sees your business until the second they decide to make a purchase, prospective customers pass through sales funnel stages. These stages will help you align your marketing strategy to convert a prospect into a customer. 
They are as follows:
Awareness
The moment a person lays eyes on your business and becomes aware of your brand, product, service, or solution, they are already in the awareness stage.
You can establish awareness through a Google search, Facebook post, advertisement on media platforms, or a simple referral from a friend.
For some prospects, the purchase becomes an instant reaction from the awareness stage. If individuals feel like you're offering the right solution for their concerns, they will instantly purchase from you. However, this interaction is rare. 
The awareness stage can be likened to courtship. At this point, you're encouraging a prospect to visit your website, contact your business, or engage more with your brand.
Interest
The second stage of a sales funnel is interest. 
In this phase, a prospect evaluates your brand. They do research, product/service comparisons, or look into how your solution answers their concerns.
At this point, it is important to provide prospects with valuable content such as eBooks, webinars, articles, or white papers to educate them.
Be careful of pushing the products/services to prospects. You might chase them away. 
Instead, use this stage as an opportunity to establish your expertise.
Decision
When prospects reach this stage, they're likely to consider your product. They may have narrowed down their options which, fortunately, includes yours.
This is where they'll compare pricing, packages, and discounts to determine the best option.
At this point, it's time to step with your best foot forward. Offer coupons, gifts, discount shipping fees—anything to make the purchase irresistible.
Aside from these tangible freebies, one of the greatest things you can provide is a satisfactory customer experience. When a prospect learns your business offers impeccable customer service, they'll likely select you.
Action
This is the most important stage of the sales funnel. 
In this phase, the prospect acts. They purchase a product or avail of a service and become a part of your ecosystem. Although there might be instances where they don't push through with the sale, this doesn't mean they're completely lost.
This is where the beauty of creating a sales funnel comes to fruition. A sales funnel's effectiveness doesn't stop when a customer makes a purchase. 
Since the customer is already a part of your ecosystem, you can establish customer retention and nurture strategies to keep them in the loop.
When a customer makes a purchase, you can send them a thank you note" a feedback survey, or give them your contact details for tech support. Such strategies will make a customer's buying journey more memorable.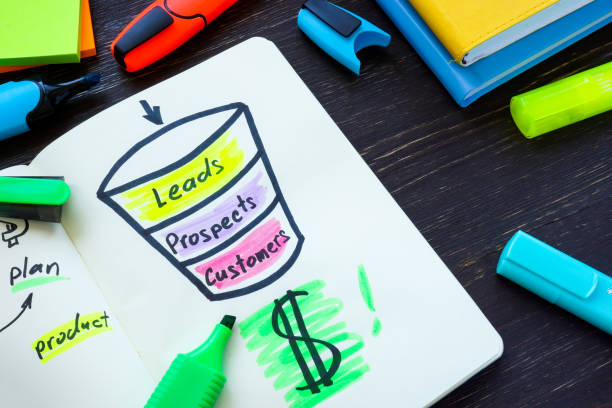 How to Create a Successful Sales Funnel
Whether you sell clothes online, offer digital services, or produce content for a wide variety of audiences, a sales funnel is essential to encourage prospects and convert them into customers.
If you are excited to make a sales funnel, follow these steps to create one.
Gather Data and Analyze Customer Behavior
Your sales funnel must be customer-centric. But it should also reflect your brand. 
Understand what you want to convey to your prospects. Highlight the solutions only you can provide.
To gain more insights about what you need to focus on in your sales funnel, ask these questions to your target customers:
What are the current challenges with the niche/industry/area you intend to cover?

What are frustrations you don't want to experience again?

What goals and aspirations do you want to achieve with your product/service?

What stops you from choosing our product/service?

What steps have you taken/what product or service have you bought to address the current problem?
After having the answers to the questions, you can strategize content for the different stages of the sales funnel. 
For example, you can use a paid ad to encourage visitors in the first stage of the sales funnel.
Always remember that the content or strategies should align with the sales process. You don't need to push the product or service on your visitors' screens when they're still in the interest stage.
Capture Your Target Audience's Attention
It is important to understand that you cannot market to everyone. Try to use marketing efforts to target audiences who are a good fit and likely relate to your product or service.
Now that you understand how you can connect with your potential customer, it's time to lure them in.
For this step, you can rely on various content, such as blog posts, social media content, infographics, and videos, to generate interest. You can distribute these content types with either organic or paid strategies.
Examples of organic traffic include search engine optimization (SEO), referral linking, social media visibility, and direct traffic.
Before launching a campaign, you must know which platform your target audience uses. For example, if you offer trendy clothing pieces to teens, you might want to launch the campaign on Instagram or Facebook.
Build a Landing Page
Once you have eyes on your online business, it's time to create a hub for interested prospects. This hub is your landing page. A landing page serves as a gateway between an offer and your business. 
Once a prospect clicks on your lead magnet or Facebook ad, signs up for a webinar or research, enters a discount code, or downloads a template/eBook, they'll be directed to a landing page.
Landing pages will be the prospect's first step between you and the ultimate goal—converted sales.
When a prospect is already on the landing page, make sure you have a contact information capture form. You can do this through forms or other input methods depending on the platform you use to create the landing page.
Aside from capturing the prospect's contact information, use bold call-to-action (CTA) phrases. These CTAs will guide a prospect toward a specific action, such as steps to download an eBook or redirect them to another related blog post.
Create an Email Drip Campaign
After gathering leads, it's time to nurture them and continue reminding them of your value. 
How can you do this? By sending them emails or newsletters.
Reach out to them with valuable offers or resources. Help prospects with their concerns. Highlight how your products/services can help them resolve their problems more efficiently and quickly.
Using this email drip campaign, you can establish trust and authority with your prospects. This will also allow them to understand your brand more. 
After several emails, you can make an incredible and irresistible offer.
If the prospect is converted into a customer, the email campaign shouldn't stop with an offer. You have to email them a thank you note or a feedback survey.
Keep Nurturing Your Existing Customers
Research has shown that repeat customers are where businesses thrive best. 
When you increase customer retention rates by at least 5%, you can expect an increase of about 25% to 95% in revenue.
Continue including existing customers in your email campaigns. Send them newsletters or freebies. Keep them in the loop with new promotions, offers, and other marketing efforts.
You can also include paying customers in your community-building strategies to develop brand loyalty and trust.
Building an effective sales funnel takes time, patience, and careful planning. However, all these efforts are needed for your business to thrive in an otherwise competitive industry.
When you build a marketing funnel, always keep the customers in mind. Relate to them in a language that they can understand. Guide new customers in a journey that will allow them to understand how you can help them without being pushy. Cultivate your potential customers with knowledge and trust.
Adjust your strategies based on research and information if your sales funnel isn't working. But be careful with the data you're using. Use information from your target audience. This will allow you to create a sales funnel that is unique and more effective.