Did you know that only 3% of transactions are made during the first contact? Even at the fifth point of contact, this number is only 10%. With that being said, a customer requires between 5 or 7 interaction moments before making a purchase.
As a result, it's critical to have proper communication so that potential customers receive the appropriate information at the right moment. So what should you choose to build funnels in your business? How about what is the best way to make your funnel more successful?
Funnel building is a process that helps convert visitors into customers by guiding them through your conversion funnel. With the right tactics in place, it's not difficult to create an effective lead generation system.
Let's dive in to discuss what you should do when building funnels and what you can accomplish with them.
The Sales Funnel Explained: How Does it Work?
If you are in the marketing business, chances are you have heard about what a funnel is. In the world of digital marketing, a high-converting sales funnel can transform a small organization into a bigger marketing business. However, you must understand what a sales funnel is and how it works if you want to take your firm from zero to growing in no time.
A sales funnel can assist you in keeping track of your leads as they approach the point of becoming paying customers. It's a tool for tracking as they move from being prospects to becoming clients. Sales and marketing automation software can close the gaps in your sales funnel and convert near-misses into sales.
In one way or another, every business goes through the same process. The sales funnel may look like this:
Emails
Surveys/Outreach and follow-ups
Product usage guides
Sales Team
Special Offers
Website
Consultation on an individual basis
The sales funnel includes any marketing channel. And your funnel may be in across multiple channels.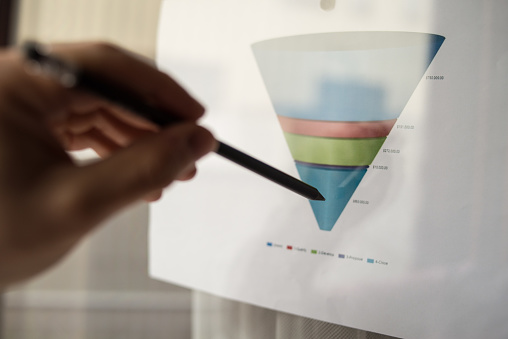 The Importance of Sales Funnel in Turning Your Website's Visitors Into Paying Customers
The marketing term describes the customer journey taken to purchase a "sales funnel". You can improve your sales and marketing efforts by looking at your sales funnel.
To attract and convert visitors into customers, you must develop a sales funnel, whether you have a brick-and-mortar or business online. Building funnels correctly means increasing sales and keeping track of exactly what people are doing on your site.
In a short discussion, conversion rates matter in marketing- not clicks, social media friends, or followers. Your sales funnel's main purpose is to guide people through the various sales process stages until they are ready to buy.
Breaking Down the Different Sales Funnel Stages
A sales funnel has multiple steps, so you must first understand the steps needed to know what you should choose in building one. The traditional sales funnel has three stages: awareness (top), consideration (middle), and decision (bottom). However, those old-school stages turn into an AIDA Model, which most marketers use nowadays.
Should you use the AIDA model to create an effective sales funnel? Think of it better. Does it help you choose what type of funnel to build?
Definitely, each stage of the sales funnel affects customer behavior. In addition, this has the potential to have a huge impact on your business. The steps involved in a sales funnel are as follows:
1. Awareness Stage
This stage is frequently more like a courtship. It is when you get a customer's attention for the first time and is known as the top of the funnel. Your prospect learns about your company and what you have to offer.
Potential customers will often buy right away if the chemistry is just perfect. At this point, customers will be aware that you are providing a desirable product at a reasonable price.
The potential customer will become a customer by clicking a link and purchasing your product if the opportunity arises. Or likely, it could be a message, a Facebook post, a search on Google, reading your blog post, or taking a call to action. However, you will most likely have to persuade the prospect to come back to your website and become more involved with your business.
2. Interest Stage
It's the second stage of the sales funnel. The prospect has learned about your brand and products or services. Then, they decided to evaluate it depending on their level of engagement.
During this stage, if you become too aggressive with your sales approach, you risk alienating the prospect and forcing them to quit. You should post excellent content informing and educating the prospect while not pitchy or making an obvious sales talk. On the other side, your content should show off your knowledge and assist the potential customer in making an informed selection.
3. Decision Stage
The third stage in the AIDA Model is the decision. The customer is ready to purchase at this stage of the sales funnel. The leads may be weighing two or three possibilities, one of which is likely to be you.
At this point, make your best offer now. Most prospects may likely compare pricing, bundles, and other aspects to determine which option is best for them. When customers place a purchase, you may, for example, offer free shipping, a bonus product, or a discount code. Make it so appealing that your lead can't wait to take advantage of it, whatever the case may be.
4. Action Stage
Action is the final stage of the entire sales funnel. When customers buy something from you, they become a part of your business value. So even though the sale has been completed, the procedure continues.
Your goal is to focus on customer retention so that the consumer purchases from you again in the future. To put it another way, customer loyalty should be focused on your content or perfect sales funnel. You can thank the customer for their purchase, provide after-sale assistance, ask for feedback, or enroll them in a rewards program.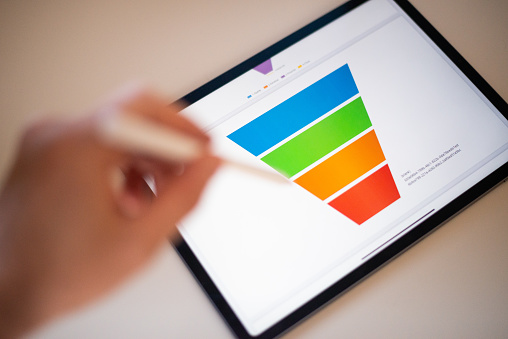 How to Build the Best Funnel
Funnels are designed to make your new or existing customers buy your products or services by completing the process more straightforwardly. However, there are various ways to make a sales funnel, and each business and industry has its own set of sales funnels.
Here are some tips on what to choose when it comes to building own sales funnel:
Understand Your Target Customers and Leads
Before building your sales funnel, you need to know your target audience. Find out who your target market is. Creating a list of questions that will allow you to establish what interests your target audience the most is a terrific method to figure out exactly who they are.
To put it another way, consider the following factors when conducting your research:
Questions or issues for which they are looking for answers.
What are things that pique your leads' interest, such as what restaurants they frequent, what hobbies they enjoy, and so on?
What do they do when they click?
What percentage of the time do they spend on each page?
Are they using a variety of social media platforms?
The things that irritate them the most about online purchasing
A sales funnel's sole purpose is to direct traffic and interaction to your main product or service page.
Make a List of Your Competitors
Of course, your focus will also be on your direct competitors. To know what kind of marketing funnels you should create, know what niche and strength to compete with others. Make a list of all recognized businesses that sell products or services similar to yours.
It would help if you also considered investigating your indirect competitors. You'll be looking at companies that don't necessarily sell in your niche but whose target demographic is similar to yours. As a result, you'll have a greater grasp of the sales techniques that motivate your target audience to act.
Keep Attracting Your Audience
Your funnel will only operate if you can get individuals to enter it. This means getting your ads or content in front of the right people.
To continue with the process, make a valuable move. Take a natural way and publish a lot of material on all of your channels. Use infographics, videos, and other blogs to diversify your content and get organic traffic. The following are examples of ways for getting organic traffic:
SEO (Search Engine Optimization)
Traffic from social media or non-paid
Traffic from referrals or other sites linking to you)
Or the other way around, run a few adverts if you're willing to spend more money. Facebook or LinkedIn advertisements may also be the best options if you're selling B2B.
Create Landing Pages and Sales Pages
The landing page is frequently a prospect's initial introduction to your company and products and services. In an online world, you'd send them to a landing page with a great offer.
Users will reach your landing page in various methods, including clicking on a social media ad or link, downloading an e-book, or signing up for a webinar. You create a landing page form that links with your email autoresponder and give your free premium item in exchange for an email address. Because the landing page may be your last chance to impress potential customers, the copy should have been solid and intriguing.
Make a Drip-Email Campaign
It will help if you communicate with leads who have been captured via the landing page to close them. You may market via email marketing by delivering valuable and entertaining details.
Choose how long each step should be displayed on your website. Make an excellent offer they can't refuse at the end of your drip campaign. Updates should be sent regularly, but not too much. As a result, that material will motivate your prospects to take action.
Maintain the Communication and Keep the Process Going
The visitor has either become a customer or chose not to make the transaction. In either situation, you should keep communicating and improving relationships. Rather, keep reaching out to them.
You can continue to send them instructional content that they could find valuable. Thank the clients for their purchases and keep them updated on any deals or promotions. Involve them in your social media marketing and create a group for customers to increase brand trust and loyalty.
Improve the Efficiency of Your Sales Funnel
Your work is never done once you've developed a sales funnel. It would be best if you always look for methods to improve and optimize your sales funnel, as well as figure out where you're losing leads.
Lastly, concentrate on the locations where prospects pass through the sales funnel from one stage to the next. Keep track of how long your customers stay with you.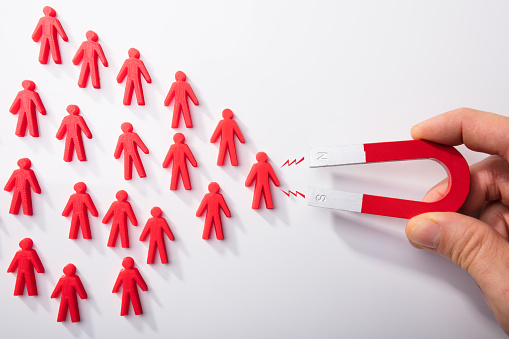 Effective Types of Funnels That Will Attract Potential Customers
You may be wondering what type of funnel you will choose that best suits your needs. Here are some powerful types available today, and select what type of marketing funnel will suit your business.
1. The Membership Funnel
It is a funnel that is used to collect information about members. Membership funnels were developed to entice users to join membership sites, paid newsletters, and other similar services.
Create a membership site and use this funnel to sell access to it. For example, they are given a link to register an account in the member's area on the Thank You Page. Then, users create their login and password, and content is unlocked based on the purchases made by the user.
2. Lead Generation Funnel
It's one of the most common high converting sales funnels used to create your email list. In addition, grow your audience, or collect some targeted leads before a launch. To make this funnel, you'll need the following things:
An opt-in form on a landing page
Thank You Page
Graphics and copy for a Facebook ad
A visually appealing lead magnet that solves a problem
3. The Survey Funnel
It is a funnel that is used to collect information from people. First, determine your website visitors and then direct them to the appropriate funnel.
The goal serves both your online business and visitors. The first is to make it easier for your visitors to interact with you by requiring them to answer questions and make necessary commitments. The second benefit is that it helps you determine your visitors to tailor your sales message.
4. Video Letter Sales and Demo Funnel in Action
Through this funnel, use video to offer your products or services. For example, the "Add To Cart" button is hidden until the video has revealed the price.
In addition, demonstrate your product in real-time with your demo funnel. This funnel is a terrific approach to show your product to your consumers by just utilizing it in front of them.
For example, host a live show regularly that others can attend. Keep additional episodes underneath and remind viewers where they can acquire what you're showing.
5. The Auto Webinar Funnel
After an entrepreneur has demonstrated their offer multiple times in the Webinar Funnel, they can use the Auto Webinar Funnel. Auto webinars can run 24 hours a day, seven days a week, selling your products and services for you.
On the registration page, someone signs up for the webinar, and then they're brought to a confirmation page where they can see the time and date of their event. They are then sent links to indoctrination pages where you can pique their interest in the training.
6. The Cancellation and Application Funnel
These sales funnel examples are used to cancel a reservation. When a consumer requests a refund, cancels a service or returns a product, the Cancellation Funnel is used. Survey to figure out why people are leaving and preserve the sale.
It's a series of steps that guide you through the process. Create an application funnel for leads to apply to work with you. It is frequently used in high-end coaching and consulting to qualify people to work with you.
7. The Product Launch Funnel
How do this sales funnel works? It's a funnel that is used to introduce a new product. Before buying a product, an entrepreneur can use this funnel to build anticipation. With your product launch funnels, you can create excitement for your new product.
In a Nutshell
Take the time to build a sales and marketing funnel that reflects your desires and those of your target audience. Focus on it over time, make adjustments to your approach at different phases of the sales funnel, and figure out why your efforts aren't succeeding. Perhaps, you won't perfect the sales funnel until you have the right tool to execute your marketing strategy.
You can use one or more than the sales funnels above to help you generate more leads and sales in your company. You'll never know unless you try, and the best way to try is to follow the guide we have!