No matter what your business is, you'll need a landing page to help you promote and sell your products or services. There's no doubt about it; a well-designed landing page can make a big difference in your results. 
But not all landing pages are equal. To ensure your page is effective, it's important to include certain essential elements.
In this post, we'll look at some essential landing page elements and explain why they're so crucial.
So without further ado, let's get started! 
What is a landing page?
Business owners know just how essential it is to engage and connect with their customers online. One of the best ways to get through this is by making landing pages.
A landing page is a page on a website designed to convert visitors into leads or customers. It is typically the first page that a person will see first in the website and is distinct from the rest of the site's design or function. 
A lead gen form is typically used to generate new leads for businesses. Lead is a prospect interested in your product or service. 
In order to capture leads, businesses offer something of value in exchange for the visitor's contact form. This can be in the form of an eBook, white paper, coupon, charity donation, or free trial.
A high converting landing page is essential for any business looking to generate new leads and grow its customer base. If you're unsure how to start, plenty of online resources and templates can help you get started.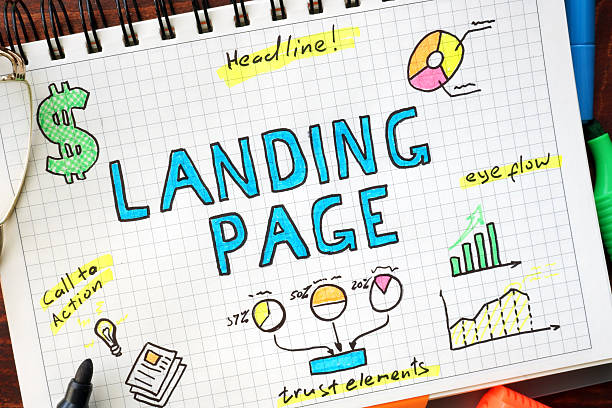 Essential Elements of a Winning Landing Page
The key to successful landing pages is to make them as targeted and relevant as possible. This means including only the essential elements and removing any distractions.
Let's dive deeper into the four elements of a landing page.
1. Unique Value Proposition
When creating high converting landing pages, one key element often overlooked is the Unique Value Proposition (UVP). Put simply, UVPs is a statement that lays out what makes your business or product unique. Also, this is why customers should choose to invest in it.
This unique selling or value proposition includes two crucial factors.
Primary Headline
Most people think of a headline as the large, bold text at the top of a newspaper article. But in the world of digital marketing, a headline can also refer to the main headline on a website's landing page. This headline is usually one of the first things a visitor will see, so it's essential to make it count. Aside from that, it encourages them to stay on the page.
A headline should be clear, concise, and to the point. It should also be reflective of the overall tone of the page.
Supporting Headline
One element that is often overlooked is the subheadline. A good subheadline can be the difference between a visitor bouncing or sticking around. While the subheadline may seem like a small detail, it's a direct extension that impacts your landing page's conversion rate.
2. Visuals
They say a picture is worth more words, and that adage couldn't be more accurate when it comes to these pages.
Visuals are essential elements of any successful landing page. Generally, it helps capture attention and convey key information at a glance. However, visuals must be used carefully to avoid overwhelming visitors or obscuring the page's primary call to action. 
Images should be relevant to the page's content, guiding visitors' eyes toward the main point. Likewise, videos should be short and relevant. Whether you're promoting new products or sharing information about your company, using text and visuals effectively engages your audience and draws them in.
3. Social Proof
Social proof is one of the essential elements of a landing page. It's what helps to convert visitors into customers or leads.
Simply put, social proof is a validation that comes from seeing that others have taken action. You can show visitors that others have had positive experiences with your product or service. This is through featuring testimonials, customer reviews, and social media mentions.
In a nutshell, social proof helps to increase confidence and reduce perceived risks. It can be a powerful tool for increasing conversion rates when used effectively.
4. Call to Action
Call to action is a tool that has become increasingly popular in recent years as a valuable element of landing page design. However, call-to-action buttons can be designed in various ways depending on what action you want your viewers to take.
Here are a few tips for designing a practical CTA button:
Make sure the text is clear and concise

. In essence, a call to action is instruction or encouragement to the viewer or reader to take a specific action. You want your CTA to be easy to understand at a glance, such as making a purchase or signing up for a mailing list. Something like "Download Now" or "Sign Up Here" is perfect.
Make sure your CTA button is clickable on all devices

. If someone is viewing your landing page on a mobile device, they should be able to tap the button with ease. They can be simple text links. Or, much better, create more eye-catching buttons with sweeping graphics and clever wordplay. 
Use color to make your CTAs stand out. A bright, contrasting color will grab attention. Plus, it helps visitors spot your CTA button quickly.

Consider the placement of your CTA button

. Ideally, your CTAs should be above the fold. This is through featuring strong language that grabs the reader's attention. Regardless of design, calls to action are most effective when placed in prominent and apparent locations. And those that are easy to act upon quickly.
With a few simple tweaks and thoughtful consideration, your landing page can reap the benefits of a compelling call to action. The results may just surprise you!
The Benefits of Using Effective Landing Pages
Here are the 6 benefits of using an effective landing page: 
Increase conversion rates
A good landing page will have a clear and concise message. It will be easy for visitors to take the desired action with such.
In many cases, these are used in conjunction with online advertising campaigns. Perhaps, they can be a practical step to increasing conversion rates.
Overall, business owners who understand the power of a landing page stand a much better chance of success. Also, stay on top in today's competitive online landscape.
Boost sales
Boosted sales are always a good thing, and using a landing page is one of the most effective ways to do just that. Unlike your home page, designed to be general, a landing page is highly targeted and focused on a single goal. This makes it an effective tool for businesses that want to boost sales.
Lower cost-per-acquisition
In today's competition, everyone is looking for ways to improve their conversion goal while lowering the cost. An on-point way to do this is to make use of landing pages.
A landing page copy is a standalone web page designed to capture visitors' attention. Besides that, coax them into taking the desired action, such as providing details.
Businesses can lower costs and get more customers by crafting compelling offers. Aside from that, create an optimized landing page for conversion. 
Improved brand awareness and recognition
When it comes to improving your brand's recognition, using a landing page can be a powerful tool. By creating a custom landing page to convey your brand's core values and mission, you will increase potential customers in a meaningful way. This allows you to share your unique selling proposition. Also, it helps you stand out from the crowd and build credibility among prospective clients.
Furthermore, landing page optimization can help boost your brand's online presence and visibility. Additionally, increasing both exposure and trust levels.
So if you're looking for a great way to elevate your brand's status in the market, consider using a landing page. It indeed creates lasting connections that lead to increased awareness and recognition.
Track your results and measure your success
Using a separate URL, you can track your campaigns more quickly using Google Analytics. Also, measure the effectiveness of the other web analytics tool. As a result, you can fine-tune your marketing campaigns and ensure that you get the most out of your efforts. 
Control the user experience
When you drive traffic to your site, you can't control how users will interact with your site. However, you have complete control over the user experience when using a landing page. This means that you can ensure that users are presented with a consistent message. And have a clear path to getting a conversion.
If you're running a campaign, using a click-through page is one thing you should consider. The benefits are clear, and the advantages are significant. 
In Conclusion
One landing page is often the first chance to make a good impression on potential customers. Get it wrong, and you'll lose them before they even know exactly what you're selling.
Whether you're selling products or promoting a service, your landing page is vital. So, give it a try today!