Email marketing campaigns involve sending emails about products or services to clients. They can help you reach out to potential customers or re-engage with the current ones.
Clearly, an email marketing strategy is highly effective for any company.
Just consider this number: email clients are set to increase to 4.9 billion in the year 2023.
Unsurprisingly, email marketing offers a strong return on investment. For every $1 you spend, you get $42 in return.
Given these perks, it's essential to run successful email marketing campaigns. It's not enough to send an email and leave it be.
For best results, make sure to follow these 11 tips and tricks:
Build a List of Email Subscribers
Before you start writing meaningful conversations, you need to build a list of clients who will receive them.
To get more leads, you need to:
Add a Sign-up Feature on Your Website or Social Media Account
When you do this, make sure to use an attention-grabbing headline. It's also good to add a relevant description and tagline.
Remember: simplicity is essential when it comes to sign-up forms. Only get the necessary information, such as the subscriber's name and email address.
Lastly, make sure to include a call-to-action button as this will help boost sign-ups.
Publish an Ad
Yes, you can use Facebook, Twitter, or Instagram ads to build your email marketing list.
Start by choosing the people you want to sign up. At Facebook, for example, you can promote an ad to a specific demographic, location, and other specifications.
After doing so, you can proceed with designing your ad.
For a single Facebook ad, for example, your JPG or PNG image should be limited to 30 MB. The dimensions, on the other hand, should go a max of 1200 by 628 px.
A Facebook carousel ad, meanwhile, will require a different dimension—1080 by 1080 px. The file type and size requirements remain the same.
Last but not least, you should set your budget. It doesn't matter if your budget is $100 or $10 for your email marketing campaign—Facebook can work with any budget.
Provide a Sign-up Option in Your Event
If you're holding, say, a business meeting, then you might as well take advantage of it.
For example, you can ask attendees to supply their email addresses on the registration sheet.
Not only will it be handy for marketing—you can use it to ask for event feedback as well.
Just make sure that you tell them you'll be subscribing them to your email list!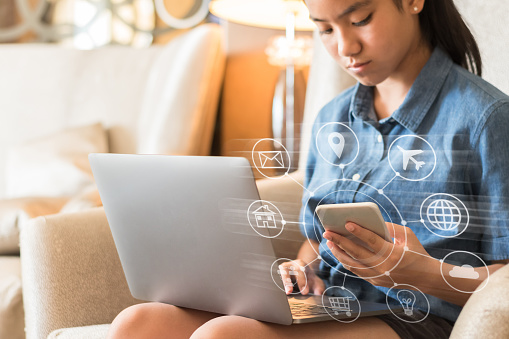 Run a Tailor-Made Email Marketing Campaign For Your Target Audience
It's useless to send promotional messages about a toaster if your client is looking for a washing machine.
That's why it's recommended that you direct your marketing emails to the right audience.
To do this, you need to start with a lot of data-gathering. You need to conduct in-depth research on user behavior, location, among many other things.
Once you have the data at hand, you can create the right email campaign.
Programs such as Active Campaign can help you create targeted email campaigns relatively easily. It lets you segment your email subscribers according to location, behavior, and other factors.
That way, you know you're sending the right message to the right person.
Create Personalized Emails
Personalization is one of the many email marketing tips that experts recommend.
For one, your new subscribers would like to be seen as individuals and not as mere email addresses on your list.
Likewise, readers are more likely to open emails that look more relevant to them.
Personalization also helps you create a tailor-made message, which is crucial for effective email marketing campaigns.
The good thing about personalizing emails is that they're relatively straightforward.
For starters, it's all about using your clients' names and sending messages from the same email address every time.
Again, you can use the segmentation feature of Active Campaign to personalize your marketing efforts. As mentioned, you can use it to categorize your subscribers according to age, gender, and multiple locations, among others.
Use a Strong Email Subject Line and Pre-Header
The goal of email marketing is for old and new customers to open your message. To accomplish this, however, you need to create catchy email subject lines.
You can accomplish such simply by following these email marketing tips:
It's all about personalizing. Using the client's name or location will increase your campaign's open rates.
Keep your subject line curiosity-driven. Your emails or newsletters are more likely to be opened if it makes your reader want to know more.
Make the subject short and sweet. Keep your text between 9 to 60 characters. This way, even your mobile readers would get the complete gist of your subject line.
Limit punctuations. Don't use more than three punctuation marks on your subject line.
Avoid ALL CAPS (and plenty of exclamation marks). Your welcome email may end up in your client's spam folder whenever you use such things.
Be careful with emoji use. Emojis are fun, but you should scale back on using them. Better keep it simple.
Test subject lines. Even if you follow all the tips mentioned, you won't know if it's effective if you don't test your subject lines. A/B testing them will help your campaign monitor determine the best version available.
The same techniques apply to your pre-header or the preview of your email. It's the second thing your subscribers see, so you want it to be just as catchy.
While it's tempting to place a rewritten sentence on your pre-header, it's best to personalize it!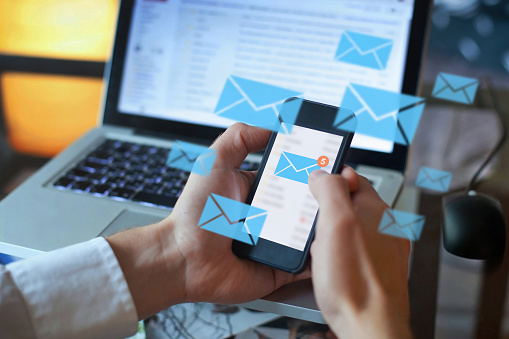 Simplify the Layout of Your Email Messages
Sure, it may be tempting to use unique fonts, sparkly graphics, and whatnot. However, experts suggest otherwise.
As always, it's best to keep everything to a minimum.
For many, a flashy email appears cluttered. Some find over-the-top designs so overwhelming they end up disregarding the email.
In other words, you need to craft your email with user experience in mind.
Here are some email marketing tips you should follow for a better layout:
Balance your text (60%) and visual content/images (40%).
Use headings/subheadings and bullet points to make the email message easily scannable.
Consider content hierarchy—put the more important things on top.
Leave a lot of empty or white spaces.
Use a template that works well on mobile devices. Remember, 50% of emails are opened this way.
Keep Your Email Marketing Campaign On-Brand
You want your own emails to be on-brand every single time. Doing so will help your clients recognize your company whenever they click your email.
Here are some on-brand email marketing tips to help you out:
Use a tone that jives with your other content (website, social media accounts, etc.)
Make use of the fonts and colors that you use in the platforms stated above.
Don't forget to include your logo or website link on your landing pages.
Add photos that may be found on your website or social media pages.
Type in some relevant links.
Add a Call to Action to Your Digital Marketing Campaign
Even if you follow all the email marketing tips in this list, they're useless if you don't include a CTA in your message.
Here are things to consider when making a CTA:
Make it Action-Oriented
As the name suggests, a CTA is something that should entice your reader to take action.
Instead of using boring verbs like 'enter' or 'submit,' go for more compelling ones – like 'try,' 'get,' or 'read.'
Keep the Button Big Yet Readable
You want a CTA button that's big enough to be read but not large enough to overwhelm your client.
It's best to use a bright color but make sure it contrasts the hue of the entire email.
If ever you plan on using a secondary button, keep in mind the hierarchy. The brightest should be your primary one. Use grayscale or supporting shades for the other ones.
Keep the Text Short
As previously mentioned, it's good to keep everything short and sweet. The same rule applies to CTAs.
Limit your use to three words—don't go beyond six!
Use the First-Person POV
Instead of saying 'Get this eBook,' use the first-person POV instead (e.g., Get my eBook.)
According to a report, the first-person POV can increase CTA clicks by as much as 90%.
Build a Sense of Urgency
A sense of urgency can help boost your CTA click rate as well.
Remember: people have the innate fear of missing out (FOMO.) You can capitalize on FOMO by crafting CTAs such as:
Buy now
Discount only available today
Add a Lot of White Space
Just like your plain text emails, it's best to have a lot of white space around your CTA button. It provides a visual break while drawing attention to where it's needed the most.
Placement Matters
When it comes to your CTA, location matters.
It's essential to follow a natural progression. If you want your reader to register for your webinar, you need to place the button after the details and not before.
Test Your CTA Button
Like the subject line, you need to test your CTA button design.
With A/B testing, your campaign monitor can pick the best copy, style, or placement to use.
Include Your Social Proof and Links, Too
Adding your social media link can help in your email marketing campaign as well. It's not only a great way to promote your business, but it can also help promote trust.
Remember: if your client has subscribed to your newsletter, there's a big chance they'll follow your social media accounts, too.
The benefit works both ways.
Yes, a social link may help increase your email sign-ups as well. Even if the customer didn't subscribe in the first place, the promos on your social media page might motivate them to do so.
Embed an Unsubscribe Link
Contrary to popular belief, a high unsubscribe rate will not put a dent in your online presence.
It can even help you with website traffic, among many other things.
For one, your business and clients are sure to change over time. The content you had during your starting point may not be the same as what you have today.
That's why you need to give your customers a chance to opt-out and unsubscribe. This opportunity will help them view your business in a more positive light.
Plus, subscribers who are not even opening your emails are just adding to the cost of your email marketing software. If you've run a re-engagement campaign and they still did not open your emails, then it's better to let them go.
More importantly, you're legally required to offer an unsubscribe option, so don't forget it!
Add an Email Signature
An email signature is another asset that can improve your message's layout.
It's handy since it helps establish who you are.
Remember: it's not enough to limit your signature to your name, position, company, and contact information.
It's also wise to include the following in your email signature:
Photo
A link to your meeting calendar
Social media links
Legal requirements, disclaimers, etc.
Pronouns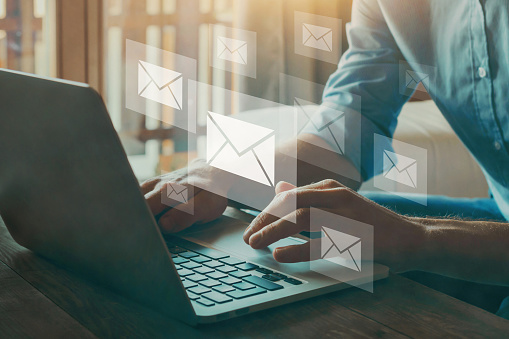 Make Sure You Have Good Email Sender Reputation
Sender reputation is the score most email service providers award to email-sending organizations.
It's a key factor behind email deliverability.
The higher your score is, the higher the chances your email reaches the recipients.
If your score is low, your email may end up in your client's spam folder.
That's not good for your direct marketing efforts.
To improve or maintain your sender reputation, remember to follow these email marketing tips:
Monitor Your Email List
Get rid of inactive subscribers or non-responders as needed. High bounce rates will be bad for your reputation, so be sure to prune your list from time to time.
Offer an Opt-in Policy
Remember to send a confirmation email whenever people participate in email sign-ups.
Doing so will help you validate you're indeed sending an email to a real person. At the same time, it will help confirm that they're willing to receive a transactional email or two.
Check your Email Delivery Rate
It's a must to monitor your bounce rates and response rates periodically.
When it comes to bounce rates, always pay attention to the code. A hard bounce is easy to address—all you need to do is place the email on the suppression list. A soft bounce needs more figuring out, so keep your eyes on this.
With the help of routine checking, you can help prevent your email service provider from lowering your score.
Make Sure to Offer Valuable Content
How subscribers interact with your emails will affect your reputation as well.
You want to keep your messages interesting, which you can easily do by following the email marketing tips above.
In a nutshell, it's all about creating a personalized email, a catchy subject line, and content relevant to your subscribers.
Be Careful With Your Email Marketing Schedule
Email providers frown on organizations that bombard their network with more traffic than usual.
In order to avoid this is to manage your schedule. Instead of increasing your digital marketing volume at one go, do it weekly instead.
Monitor Your Email Marketing Data
So how do you know if your email marketing best practices are indeed effective?
For one, you need to look at the following metrics:
Open rate. If you have a catchy subject line, you can expect your open rate to be off the roof.
Click rate. Likewise, a great subject line and pre-header will help boost the click rate.
Unsubscribe rate. A high rate may mean that your email marketing content may not be as effective as you thought it was.
Earnings per subscriber. They show how profitable your email campaigns are.
Time of the day the emails were read. The data should help you decide the best time for sending emails.
You can track these metrics—and more—with the help of programs such as Google Analytics.
What you have to do is link the website to the program. You only need to provide your emails' trackable URLs. The program will do the rest.
If you need to make the monitoring process more manageable, then make sure to include the following UTM parameters on your email marketing campaigns:
It would help if you used the utm_source for the primary source or the referrer link placement. The latter will come in useful if you've launched a sponsored email, for example.
The utm_medium prompt will detail your email marketing activity, e.g., daily, monthly, or promotional emails.
The utm_name command will help you oversee your entire campaign. It covers the data on the product launch, article name, promotion duration, etc.
After setting up the URL you want to monitor, you can get your reports by clicking Acquisition > Campaigns on the dashboard.
Final Words
Email marketing offers a lot of potential, especially when it comes to ROI.
That said, launching any campaign wouldn't do. To increase your reach and sell more, keep these 11 email marketing best practices in mind.